PopUpOFF tutorial (deprecated 1.1.9 version)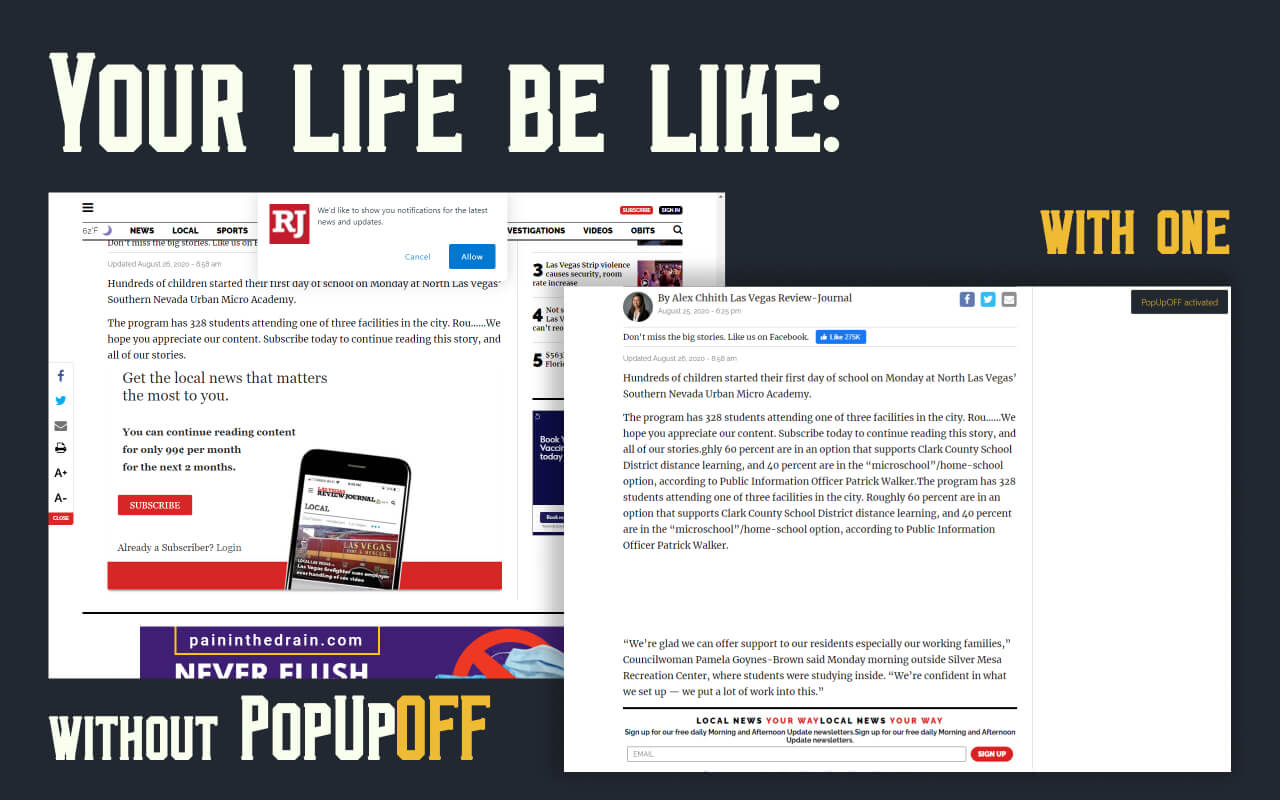 How to effectively block everything you need and prevent content from being hidden. Spend 3 minutes reading this article and win it back in a few hours of surfing. Make your time valuable.
The popup.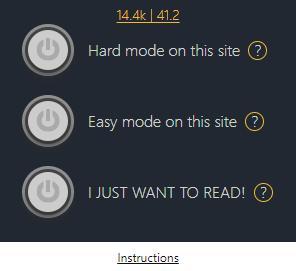 There are three modes. Is it bad-named? Propose your one. Seriously, do it.
After you use "Hard" or "Easy" mode on the given website, PopUpOFF will remember it and the next time you visit any page on the site, it will be active already and prevent overlays from appearing.
Hard mode stands for making things hard. Hard for other guys to interrupt you from reading. I'm joking. It's called "Hard" because it removes every stuck to your screen element. Not any overlay, popup or whatever it's called is going to distract you from reading. The best choice.
Easy mode. However, if you need sticky headers and navigation bars to be displayed - this is what you are looking for. Due to a lot of technical stuff, it loads your computer more and isn't working perfectly (it will one day). So I'd suggest you use it only for decent websites.
I JUST WANT TO READ! is for hopeless souls. If the first two ones didn't help you at all, there are overlays and popups everywhere, this guy is created to deal with it. Stops to work after you leave or reload the page. Breaks the rules.
There are also stats (at the top) and instructions (at the bottom) links in the popup. Just click it :)
You can disable stats at the options page
It is well-described by itself. But we're talking about efficiency, so there are three main points:
Statistics. It takes a little bit of performance and returns a lot of fun. If you feel like 5-10% will make a difference for you, disable it.
Prevent content from hiding. I wrote a tutorial on this. If you don't read websites with paid content, disable it.
Most efficiency-adding option here. "Keyboard shortcut". Scroll to the bottom. Drag (or click) to the mode you use most (left - Easy, right - Hard). Now when you open a new website with popups, just press Alt + x. Closed all the overlays in 0.1 sec. Splendidly done!

There are also tutorial and developer's (that's me) supervision. Last one is for guys who can accidentally remove Google search input or Facebook navigation from the page. Is it not you? Sure? Disable it.
Remember, it's a non-commercial project. The only money supporting it - from you guys. Donate if you think your joy is worth it.
Important update!
Automatic mode is coming. If you want to try/test it before the release, let me know: RomanistHere@pm.me, Twitter - I shall explain what to do.
For experienced users: I will tweet once the alpha version is in the git. Clone (download) the repository, enable developer mode in your browser and load the unpacked extension.
Thank you for attention and have a great life now. See ya!
Sep 10, 2020
To main page